05 Aug
Summer is fireworks season! We went to Edogawa to see the fireworks festival with about a billion other people: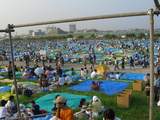 Really fucking crowded
Seriously, some of those people claimed their spots days ago so it was a miracle that we could sit at all. It's kinda scary to see the hordes of people and the long lines and the crowd-control police goons with megaphones who just can't shut the fuck up.
But the fireworks themselves were beautiful, 1000 shots just in the first minute and 14k in total, real impressive. More than an hour long. The river bank at Edogawa is nice cause it's pretty flat so it's easy to see everything.
Edit: now with 100% moar web 2.0