15 Oct
Right next to Mt.Fuji, and full of crazy rollercoasters.
3.5 hours waiting in line for 2 minutes of THIS: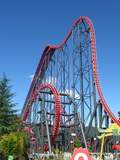 Eejanaika
You just never know when you're going to go forward or backward or upside-down. Guinness record holder in the top number of flips. FFFFFFfffffffffffffffff.
Not my video, and it doesn't really do it justice, but anyway:

Kawaguchiko is still a really nice touristy spot.
Also, so cute :3